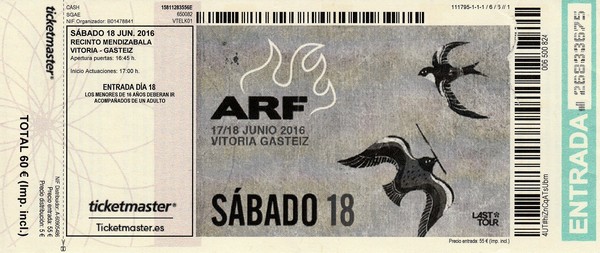 Cela faisait 4 ans que je n'avais plus mis les pieds sur ce fest…
La présence des The Who sur l'affiche justifiait à elle seule le déplacement…
Bon!!! par contre aujourd'hui c'est mal de crane 🙂 .
Petite surprise du Festival avec le groupe de Séville The Milkyway Express qui pratique un rock très 70's. je ne connaissais pas du tout. Franchement bon!!! Pour vous faire une idée : https://themilkywayexpress.bandcamp.com/album
Bref très bon concert, très bons musiciens, très bonne ambiance, bref trop court 🙂 .
on a découvert un jeune power trio anglais Raveneye, avec un excellent guitariste/chanteur qui nous a pondu quelques solos vraiment sympa.
Le groupe n'a qu'un seul EP à son actif mais a su faire durer le plaisir avec d'autres titres (du premier album?!?).
https://itsraveneye.bandcamp.com/releases
Je ne suis pas fan de ce genre de musique mais on a quand même suivi le concert de Imelda May dont le concert fut en tout point remarquable. Quelle patate… Le style rockabilly de l'irlandaise passe très bien sur scène. La très bonne ambiance dans le public plus le charme de la dame font que nous passons un bon moment…
Concert énorme des papys du rock. A plus de 70 ans, le duo Roger Daltrey/ Pete Townshend fonctionne toujours. Le guitariste mouline autant qu'avant mais de façon plus cool, tandis que Roger prend son micro pour un un lasso. La rythmique bastonne bien. Tout le monde est au point et nous livre pendant plus d'1H30 que des tubes. Superbe jeu de lumière et un son d'une clarté rarement entendu en plein air. Il y avait une ambiance de feu avec un public connaissant quasiment toutes les paroles. Que du bonheur… Bref!!! C'est le concert de l'année (d'un autre côté , faut dire que j'en n'ai pas fait beaucoup pour le moment) 🙂 .

Setlist:
I Can't Explain
Substitute
Who Are You
The Kids Are Alright
I Can See for Miles
My Generation
Behind Blue Eyes
Join Together
You Better You Bet
I'm One
5:15
Love, Reign O'er Me
Amazing Journey
Sparks
Pinball Wizard
See Me, Feel Me
Baba O'Riley
Won't Get Fooled Again