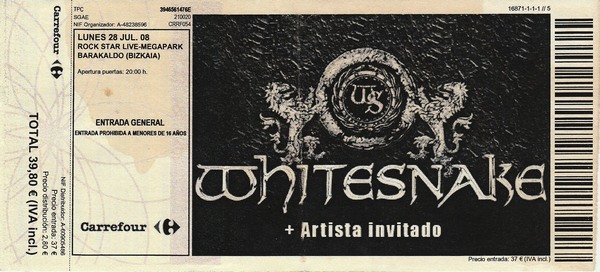 Un gros accident ayant eu lieu sur l'autoroute, nous nous sommes retrouvé dans un énorme embouteillage au niveau de San Sébastian. Du coup nous arrivons à la Rock Star Live 1H15 après l'ouverture des portes.
Le groupe d'ouverture a déjà plié bagages et sur la scène les roadies s'affairent a installer le matos de Whitesnake.
Il est 21h30 lorsque David Coverdale & Co montent sur scène. le concert débute par un titre dernier album : Best Years.
Le son est relativement bon , on entend clairement tous les instruments
D'entrée l'ambiance dans la salle est très bonne et le public très réceptif aux sollicitations du groupe.D'une manière générale les morceaux de « Good to be bad »passent très bien en live (on en a droit à cinq extraits). Mais ceux sont les titres les plus anciens qui remportent les faveurs des fans (« Fool for your loving », « Love ain't no stranger »…).
David ménage pas mal sa voix en faisant chanter la foule qui n'attendait que ça.
Le sommet du concert reste pour moi « Ain't no love in the earth of the city » qui me donne la chair de poule, une superbe version sur laquelle Mr Coverdale n'en fait pas trop … et quel public … qui s'en donne à coeur joie. Il en sera de même sur les titres « Gimme all your love tonight », « Here i go again » et bien sur « Still of the Night ».
Le serpent blanc revient pour un ultime rappel, un medley survitaminé « Burn / Stormbringer / Burn »
Une belle conclusion pour un excellent concert de 2H00 avec une sacrée paire de guitariste et un David toujours aussi bon frontman.
Seuls regrets :
-L'absence de deux ou trois chansons antérieur à 1984.
-L'écho sur la voix de David Coverdale qui sur certains morceaux abuse de cet effet …
Setlist :
Best Years
Fool For Your Loving
Can You Hear The Wind Blow
Love Ain't No Stranger
Lay Down Your Love
Is This Love?
Solo guitare
A Fool In Love
Solo batterie
Ain' t Gonna Cry No More (acoustique)
Ain't No Love In The Heart Of The City
All For Love
Gimme All Your Love Tonight
Here I Go Again
Still Of The Night
Burn / Stormbringer / Burn