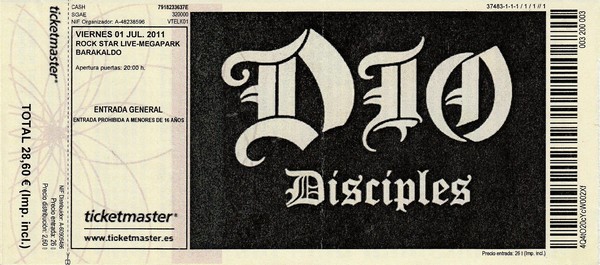 A chaud ou presque 🙂 voici mes premières impressions de la soirée :
– Anvil :
Décevant pour ma part, j'avais vu deux fois Anvil auparavant (2006 et 2010) et je peux dire que le groupe peut bien mieux faire que ce qu'il a proposé hier soir. Le groupe n'avait pas l'air de se faire plaisir et donnait l'impression d'avoir enclencher le pilotage automatique. Et pour finir, ils ont quitté la scène comme des voleurs sans saluer le public…
– The Rods :
la claque, j'ai bien aimé. je ne connaissais pas trop mais là… ce fut terrible.
Achat de la discographie obligatoire 🙂 .
Un power trio très énergique et heureux d'être sur scène. Des titres rock 'n' roll et facile à mémoriser…
David « Rock » Feinstein (guitare et chant) est une véritable pile …
– Dio Disciples :
Euh… comment dire, il manquait quelqu'un au chant 🙁
Mais on a passé un sacré moment avec des musiciens qui respectent au plus haut point l'œuvre du maitre et ne cherchent pas à tirer la couverture… très belle hommage.
– Graig Goldy est très appliqué et n'en fait pas des tonnes. Quoi que l'on en dise, je pense qu'il est le guitariste qui colle le mieux à la musique de Dio (oubliez Tracy G, Doug Aldrich ou Rowan Robertson).
– Simon Wright égal à lui même, un cogneur de première ordre.
– James LoMenzo assure la basse et fait bien son boulot.
– Scott Warren est toujours dans son monde 🙂 …
Pour ce qui est des deux chanteurs, Toby Jepson (ex-Little Angels, ex-Gun et producteur du dernier Saxon) et Doro, ils ont su très bien adapter leurs voix au répertoire sans vouloir à tout prix cloner Ronnie James Dio.
Doro avec un chant à l'arrache (faut l'écouter sur un titre comme « Stand Up And Shout ») et Toby plus harmonieux mais sachant se faire plus hargneux sur un titre comme « King Of Rock 'n' Roll ».
Très beau duo sur « Catch The Rainbow »…
Les parties de chants sont bien réparties entre les deux artistes : 5 titres chacun et sept duos sauf erreur de ma part.
Stand Up And Shout (Doro)
Holy Diver (Doro)
Don't talk To Strangers (Doro)
Egypt (Doro)
King Of Rock 'N' Roll (Toby Jepson)
Catch The Rainbow (Toby Jepson & Doro)
Stargazer (Toby Jepson)
Neon Knights (Toby Jepson & Doro)
Straight Through The Heart (Toby Jepson)
Childrem Of The Sea (Toby Jepson & Doro)
Killing The Dragon (Toby Jepson)
Last In Line (Toby Jepson & Doro)
Long Live Rock 'n 'Roll (Toby Jepson)
Man On The Silver Mountain (Doro)
Heaven And Hell (Doro puis pour le final Toby Jepson)
Rappels:
Rainbow In The Dark (Doro & Toby Jepson)
We Rock ( Toby Jepson & Doro)
Pour résumer, il y a avait une bonne ambiance et l'on a passé une excellente soirée.